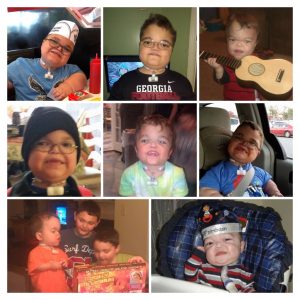 At 34 weeks pregnant, my regular check up changed or should I say rocked our world. The doctor told us that my son had some sort of bone dysplasia.  He was confident that it was going to be treatable because non-treatable bone dysplasia's are seen earlier in pregnancy.  I was a wreck. I also thanked God for letting me go through most of my pregnancy without knowing and stressing about it. He knew what I needed. After hearing the news, I acted right away. I arranged for a neonatologist to see him in the hospital, have x-rays and genetic blood tests done.
On November 20, 2008 Christopher came into the world.  He was born with Achondroplasia (a type of dwarfism). Typically, there aren't complications but this was not so for Christopher. Statistically, only 10% of infants with Achondroplasia have respiratory complications. I remember reading of that 10%, most don't survive. This was very scary which leads me to the events of December 22, 2008. This day will forever be etched in my memory, never to be erased.  It was the day my youngest son Christopher went into respiratory distress.
Upon arrival at the hospital, the nurse took Christopher out of my arms right away and headed to the big room and suddenly medical staff were coming from everywhere. It was like a scene from a movie and I felt powerless. Once assessed, which felt like an eternity, I recall the ER docs telling us your son is having trouble breathing. We have to intubate him. I said do what you have to do to help my son. Once he was stable he was brought to the Pediatric Intensive Care Unit (PICU) and that's where our journey began.
The first week in the PICU was an emotional roller coaster.  The PICU doctors were working diligently to try and figure out what caused Christopher to go into respiratory distress.  First they thought it was RSV, then checked for a few neurological problems.  After 2 failed extubations, the doctors sat down and told us that Christopher has a 50/50 chance to pass extubation (which means breath on his own.)  While they were telling me this scary statistics, I was thinking Oh my God he is going to die.  My heart was broken.  After the initial shock of hearing the statistics and thinking worst case I asked is my son going to die?  They explained Christopher had restrictive lung disease and told me about giving him a tracheotomy and use a ventilator to breath for him.  I wanted Christopher to have a life of quality not quantity.  The Drs assured me that this would be a bridge to get Christopher through this time.
Christopher was given a tracheotomy, GJ tube (feeding tube), and a pic line.  After he recovered from surgeries he was transferred to the TICU (technology dependent ICU) The TICU taught us how to take care of Christopher once he was able to go home.  It was overwhelming learning all about all the medical equipment that Christopher needed to keep him well.  All of this would help him get well enough to go home.  He spent his first Christmas, Valentine's Day, and Easter in the hospital. We celebrated each Holiday in the hospital by decorating his door and the 5 of us spending the day together.
There were so many ups and downs during his hospital stay. We learned everything we needed to know during those almost 5 months. When it was getting closer to discharge day I was feeling so many emotions and so many thoughts (good and bad) were going through my head. We had one final test before we were allowed to take Christopher home. My husband and I had to take care of Christopher for 24 hours in the hospital without any help from the nurses.  By that time we learned everything we could to that point. The 24 hours came and went. We were approved to go home. Besides bringing him home there were several things that had to happen. Home Nursing, equipment, and medical supplies. Once everything was in place we got a discharge date of April 29, 2009. 4 months and 7 days. There was one thing that happened before discharge that left me unsettled but the Drs and Staff were not hearing me. So, we went home. In less than 24 hours Christopher was airlifted from the front of our local Primary School lawn. Oh no! Not again!  No more hospital. I wish they would have listened to me because the thing I didn't feel settled about was the thing that caused my son to get re admitted less than 24 hours of being home. As upset as I was, I knew that this was best for Christopher until we got it straightened out. He was in the hospital for another month. On May 28, 2009 Christopher was discharged. This was a much better transition to go home. There definitely were lots of ups and downs with the home nursing company but we got through it.
Christopher was in and out of the hospital for the first 2 years. As the years went by he got healthier and stronger. He just celebrated his 10th Birthday. Although he still has a tracheostomy tube and on a ventilator at night, he has a nurse that goes to school with him and is your typical 4th grader. He goes to school full time, has lots of friends, enjoys playing at recess, and playing video games.
As much as Christopher has been through he was and still is smiling. Every mountain, every trial, and every bump in the road he still pressed on and got through it. One of the many things I learned was that no matter what obstacle, Christopher NEVER GAVE UP.
#hisstorymywhy